Coalition's Student Leaders Pilot an Authentic Youth-Driven Campaign
Teens Create a Campaign and Sex Ed Booth in Hollywood Schools
Written by Maria Sipin
The Hollywood Coalition for Healthy Youth student leaders at a local Hollywood high school launched a social media marketing pilot project. This campaign wasn't focused on getting retweets and likes; it was about being part of a process for creating thoughtful messaging and sexual and reproductive health resources for their high school aged peers. They also hosted a successful and informative sex ed booth that attracted hundreds of students during their lunch periods at the end of their school year.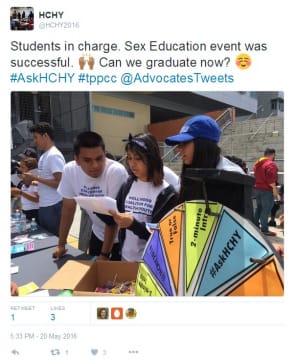 To prepare for the events, the student leaders completed trainings on sex ed and reproductive justice, critiqued and compared existing examples of teen pregnancy and HIV prevention campaigns, brainstormed original ideas, selected concepts, and wrote several drafts of sayings and slogans complemented with their own photography.
The finished products are genuinely their own creation and more relatable than anything adults could generate to mimic youth voices. This process of collaborating and discovering with their peers has made a positive impact on them based on observations and anonymous surveys.
The students—mostly 11th and 12th graders—were responsible for creating a campaign promoting safer sex, relationship rights, and local youth-friendly health services with guidance from Children's Hospital Los Angeles and Youth Policy Institute. This project is part of an Office of Adolescent Health-funded collaboration with Advocates for Youth. The students were also supported by local experts at California Latinas for Reproductive Justice and Planned Parenthood Los Angeles who strengthened their foundational knowledge on these subjects—a key part of this youth-driven campaign development process.
It's been a memorable experience for adults involved in the project that established a process and template that serves as a model for developing sexual and reproductive health campaigns by and for youth.
Photo credit: @HCHY2016