A BETTER LOOK INTO A BABY'S BRAIN

By Melinda Smith
New, noninvasive imaging techniques use existing technology to provide a better view into the brains of newborns.
A new, noninvasive imaging technique developed at Children's Hospital Los Angeles improves neonatal brain imaging by 50 percent. The technology, called Time STAMP, aids neurosurgeons treating neonates for hydrocephalus—a buildup of fluid in the brain and the second-leading cause of pediatric brain surgery.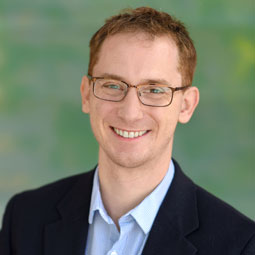 Matthew Borzage, PhD
"Blockages in cerebrospinal fluid (CSF) flow that cause hydrocephalus are smaller than the tip of a pencil, making it difficult to pinpoint the location of the obstruction with current imaging techniques," explains Matthew Borzage, PhD, an investigator in Neonatology at Children's Hospital Los Angeles. Nationally, about half of hydrocephalus patients must return for a second surgery within a year. Clearer imaging could mean fewer repeat surgeries and more targeted strategies for care.
To develop a better imaging solution, Borzage worked closely with Stefan Bluml, PhD, as well as with neurosurgeons and radiologists at CHLA in a unique collaboration. The result was Time STAMP, an innovative protocol that is used with existing MRI machines. The new technique greatly improves the signal-to-noise ratio—resulting in an image that is 50 percent clearer and brighter than what current scanning methods produce. This allows radiologists to better diagnose—and more precisely locate—obstructions in CSF flow, arming neurosurgeons with more accurate information prior to surgery.
"I hope to see this technology travel from CHLA to institutions across the country," Borzage says. "Time STAMP is noninvasive and doesn't require any new or specialized hardware, so it can be implemented immediately—and help patients anywhere."
This research was recently published in Child's Nervous System, the official journal of the International Society of Pediatric Neurosurgery. In addition to Borzage and Bluml, CHLA authors include Skorn Ponrartana, MD; Benita Tamrazi, MD; Marvin Nelson, MD; J. Gordon McComb, MD; and Wende Gibbs, MD, from the Keck School of Medicine of USC.

To find out more about this work, visit CHLA.org/BorzageResearch