Benefits for Nurses
Experienced Registered Nurses who work at the bedside are critical to accomplishing our core patient care mission. 
At Children's Hospital Los Angeles, we value our competitive position in the nursing marketplace for any number of reasons, including being able to recruit and retain the very best pediatric nurses. Along with our employee benefits package, we offer several programs designed to retain the most qualified nursing staff in the region and nation to join our team. 
In addition, we offer a wide range of incentives and flexible shifts designed to assist our RNs in meeting their personal needs.
Market Adjustments
Since 1996, Children's Hospital has conducted many vast market surveys, and made commensurate salary market adjustments, to keep its nursing salaries competitive with comparable institutions in Southern California.
Currently, we conduct our salary surveys on a bi-annual basis with our most recent market adjustment being made in 2011.
Award-Winning Child Care
Our award-winning, on-campus Child Development Center (CDC) provides child care for our nurses and other employees. Services are provided 6:30 a.m. to 8:00 p.m., seven days a week and include:
Infant care
Pre-school
Kindergarten care
A "Get Well Room" for mildly sick children
The CDC also provides annual dental, vision and hearing assessments.
NOTE: Childcare is based on models designed by developmental psychologists Jean Piaget and Erik Erikson.
DAISY Hospital Designation
We are designated as a DAISY hospital to honor the "skillful and amazingly compassionate care" provided by its nurses. The hospital presents a DAISY Award to a nurse every month. 
Nursing Professional Ladder
Children's Hospital Los Angeles offers an extended five-level professional ladder for our nurses, making it possible for our new graduate nurses to provide ever better care for sick and injured children at our hospital. 
Standard Professional Growth
Standard professional growth for nurses at our hospital include:
Entering the RN Residency Program
Promoting to Registered Nurse I (22 weeks)
Promoting to a Registered Nurse II (at one-year anniversary)
After gaining more competencies and experience, applying to become a Registered Nurse III
Being able to apply to become a Registered Nurse IV¹
Each promotion provides the opportunity for pay increases.
Promotion to RN III = 7 percent
Promotion to RN IV¹ = 7 percent
¹ The Registered Nurse IV promotion level was established in 2001; eight nurses at our hospital have achieved this elite position, which, in addition to competencies and experience, also requires nurses to participate in outside professional activities that might include writing and publishing articles in professional journals or speaking at national conferences and meetings.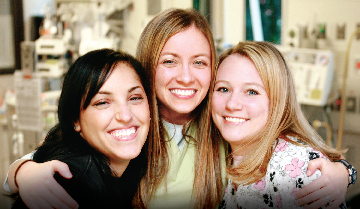 Nursing Differentials
Children's Hospital Los Angeles offers generous differentials for all levels of nursing practice.
Bachelor's Degree and Master's Degree Differential
The hospital offers a differential for RNs with the BSN degree and an additional differential for those with the MSN degree.
Charge Nurse Differential
RNs receive a differential for all hours worked as the Charge Nurse.
Clinical Preceptor Differential
RNs who agree to orient new direct care providers will receive a differential for time spent in that role.
Clinical Specialty Certification Differential
RNs and RCPs will be paid a Clinical Specialty Certification Differential for clinical specialty certifications. This differential is available to all RNs and RCPs who have an unexpired approved professional clinical specialty certification.
NOTE: Children's Hospital Los Angeles reimburses its nurses for the cost of a professional certification examination when it is successfully passed.
ECMO Nurse Differential
ECMO RNs will receive a differential for all hours worked while caring for an ECMO patient.
NOTE: This differential is available to RNs with current ECMO pump certification.
Float Team Differential
RNs who can float to only "Tier 1" floating area (Medical/Surgical or ICU) will receive a Float Team Differential for all paid hours; RNs who are competent to care for all types of patients in "Tier 2" floating areas (Medical/Surgical and UCU) will receive a higher salary differential. This differential is available for full- and part-time RNs who work in the Float Pool.
Night Shift Differential
We offer a generous night shift differential; that is, RNs will receive a differential of 10 percent of the base for the first four hours worked and 20 percent of the base for the last four hours worked, plus time-and-a-half.
Weekend Differential
We offer an hourly weekend differential for RNs that work "…rotating…" weekend shifts.
Alternative Scheduling
Alternate Full-Time Program
An Alternate Full-Time position allows nurses to work six shifts of 12 hours per pay period and still receive the same benefits, and benefit costs, as full-time employees. PTO and sick leave are accrued based on the actual hours worked up to established full-time accrual limits.
Self Scheduling
We place a high value on providing flexibility for our nurses so they can work around child care commitments and continuing education. RNs at every level of our hospital may request specific work schedules; that is, when they want to work and when they want time off. Self Scheduling Committees offer counsel to maintain fairness in the system.
NOTE: Nurses in the Center for Newborn and Infant Critical Care work fixed schedules.
Staff-Managed Unit Committees
We encourage our RNs to be entrepreneurs by creating a climate for ongoing professional excellence and job satisfaction. Unit level nurses have created:
Mock Code Task Forces
Staff Retention and Recruitment Committees
Staff Development Committees
Patient-Family Education Committees
Documentation Committees
EEO Minorities/Women/Disabled/Veterans