All-Stars for Kids

What is "All-Stars for Kids"?
Building on the legacy of athletes, teams and sports industry personalities who have supported Children's Hospital Los Angeles through the years, All-Stars for Kids is a new program that will continue to unite the sports community in support of the children and families we serve.
Who are the All-Stars?
The All-Stars will consist of individual athletes, coaches, trainers and sports media members, as well as companies and brands that support athletics, healthy lifestyles and the people who love sports.
Who are the All-Stars helping?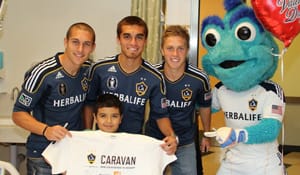 Children's Hospital Los Angeles is dedicated to creating hope and building healthier futures for children. Named the premier children's hospital in California and among the top 10 in the nation by U.S. News & World Report, CHLA provides pediatric health care and helps our patients more than 528,000 times each year in a setting designed just for their needs. In addition to providing more than 350 pediatric specialty programs and services and treating the most acute cases, CHLA has many programs in place to promote safe and healthy lifestyles in the community. Our team of All-Stars will exemplify the same values we see at work every day at CHLA: hope, compassion, transformation, service and perseverance.