Ahead of the Curve
Juliette Clark feared her scoliosis would end her water polo dreams. The Children's Spine Center helped her get back in the pool—and onto the podium.
John and Manya Clark stared at the X-ray—then looked at each other in disbelief.
The ghostly, black-and-white image on the exam room screen showed a spine shaped like the letter S—with prominent curves jutting out in two places along their daughter's back.
"How can that be Juliette's X-ray?" Manya remembers thinking. "There must be some kind of mistake."
The Clarks had reason to be confused. Juliette, then 11, wasn't suffering any back pain. Standing up, she appeared perfectly straight. What's more, she was a competitive athlete and a top player on her club water polo team.
But there was no mistake. When the doctor came in the room, he had bad news. Juliette's scoliosis (curvature of the spine) required surgery, and that would mean the end of her athletic pursuits. She would have to quit competitive water polo—and give up her dreams of playing the sport in high school and college.
"We were trying to take it all in," Manya says. "But it was pretty devastating."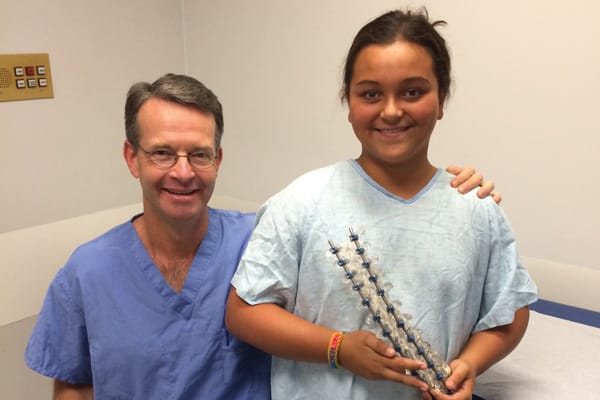 Driving north
A strong swimmer, Juliette (called "JuJu" by her family and friends) started playing water polo at age 7.
"I like how it's fast-paced, and it involves so many different things—treading water, swimming back and forth, shooting and passing," she explains. "Plus, it's in the water. I love being in the water."
The entire Clark family shares that passion for water sports. Both of Juliette's sisters play water polo, and the family has competed for years in stand-up paddle boarding contests, earning the nickname the "First Family of Stand-Up Paddle Boarding."
News that Juliette would have to quit her water polo team was upsetting enough, but the Clarks were concerned for another reason, too. Their daughter's surgery wasn't tentatively planned until the summer—more than seven months away.
"There was no sense of urgency at all," says Juliette's dad, John.
After doing research and talking to other families, the Clarks decided to seek a second opinion, making the 70-mile drive from their San Clemente home to see David L. Skaggs, MD, MMM, at Children's Hospital Los Angeles.
Skaggs is chief of the Children's Orthopaedic Center at CHLA and directs the Children's Spine Center, a comprehensive, worldrenowned pediatric spine center, one of the largest of its kind in the country. The Center treats more than 1,000 patients annually and performs 300 spine surgeries each year, with Skaggs performing nearly half of them.
"Meeting him was a completely different experience," Manya says. "He felt the sooner she had surgery, the better. And he was very positive about her going back to water polo and continuing to be competitive."
The family breathed a sigh of relief. At Juliette's request, they scheduled the surgery for Feb. 4, 2014, shortly after her 12th birthday. When February arrived, they headed back up the 5 freeway to CHLA.
They expected to be at the hospital for only a few days. But life was about to throw them another curve.
Lost signals
Not all kids with scoliosis need surgery. But curves that are more severe— 50 degrees or greater—are more likely to progress. Eventually, they can cause physical deformity, debilitating pain and even impaired lung function.
At the time of her diagnosis, Juliette's curves were around 50 degrees. By the time of her surgery, they were approaching 70 degrees. Juliette could no longer play a full water polo game; even walking through the mall gave her shortness of breath.
The surgery to correct such an abnormality is called spinal fusion, which involves inserting metal rods to straighten the spine and then fusing them in place with bone grafts.
But during Juliette's surgery, when Skaggs inserted the rods, something happened: Her spine stopped working, causing temporary paralysis.
It's a risk that comes with any spine surgery, but fortunately, Skaggs and the team at CHLA are prepared for such complications.
"It's kind of like being an airplane pilot. We have protocols for what to do when you lose spinal cord monitoring," Skaggs says. "The whole crew goes into high alert."
Skaggs immediately removed the rods, which returned Juliette's spine to normal functioning. Unable to straighten her spine, Skaggs decided next to implement a "halo traction" treatment. With her parents' consent, Skaggs screwed a ring, called a halo, into Juliette's skull. The halo attaches to a weight-andpulley system that gently and gradually "stretches" the spine straighter over time.
When Juliette awoke, she was confused.
"At first I didn't know what was on my head," she says. "But when I found out I would have been paralyzed, I was really glad he stopped the surgery."
Now came the hard part: waiting for her spine to be stretched, with 20 to 30 pounds of weight attached to her head.
With the help of her family and CHLA nurses and support staff, Juliette got through the week. As challenging as it was, it was also fun. One highlight: participating in a songwriting workshop in the Teen Lounge with The-Dream, an R&B songwriter who has written songs for Rihanna and Beyoncé.
"The care she received was amazing," John says. "We felt very fortunate we were in the right place."
After eight days, the halo had done its job, correcting her curves to a more mild 30 degrees. Skaggs then performed a second surgery, removing the halo and inserting permanent rods to solidify the correction.
"Her body looks straight; you wouldn't know without an X-ray that she still has some curve," Skaggs explains. "Most importantly, she won't have pain, and we've prevented a lifetime of progression."
---
"I feel a thousand times better. I'm more comfortable moving in the water, and I can play more aggressively. Now I don't have anything holding me back." —Juliette Clark
---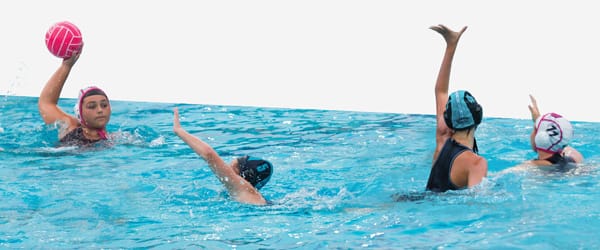 Back in the pool
Seven weeks after her surgeries, Juliette was back in the pool. Just five months afterward, she was scoring goals for her water polo team—leading her teammates to a gold medal in the National Junior Olympics at Stanford University.
Today, the eighth-grader, now 13, has improved her game even more. She recently joined a new, higher-level team and is gearing up for another Junior Olympics.
The scars from where the halo was once attached are barely visible now. And she's more determined than ever to reach her goals.
"I feel a thousand times better," she says. "I'm more comfortable moving in the water, and I can play more aggressively. Now I don't have anything holding me back."
If you Live L.A., Give L.A. Every dollar of your gift will help provide world-class care for every child that comes through our doors. Visit CHLA.org/GiveLA.