2013 DAISY Award Winners

Anthony Opimo, RN, BSN, CPHON, Receives December 2013 DAISY Award
When Radiation Oncology began a department-wide remodeling project in September 2012 to May 2013, the entire department had to move to another part of the hospital to continue providing care for cancer patients.
For eight months during the remodel, Radiation Oncology nurses took on the responsibility for inpatient transport via an ambulance and coordination of radiation treatment at the University of California Los Angeles (UCLA), while continuing with oncology care at CHLA. Throughout this challenging period of renovation, Anthony was the key to smooth inpatient care.
Thamani Delgardo, BS, RN, RTT, who nominated Anthony on behalf of the CHLA Radiation Oncology Department, explained, "Anthony was the de facto transport nurse for all inpatients requiring radiation therapy treatments since September 2012. He took on the role of a care manager due to the extraordinary level of coordination required to ensure patients were transported in a timely and safe fashion daily."
She added, "Anthony was the coordinator between inpatient unit staff and managers, Schaeffer Ambulance service and UCLA's Radiation Oncology Department."
With such complex coordination involving multiple departments, units and teams, Anthony served as the pivotal point of communication. "The information he summarized and provided was extremely thorough, detailed and clear."
Because UCLA's Radiation Oncology Department treats very few pediatric patients, it was critical that the nurses received training from CHLA nursing staff. Anthony was the leader in training UCLA's nursing staff in how to care for pediatric radiology oncology patients receiving treatment under anesthesia.
Furthermore, Anthony assisted in updating and creating Radiation Oncology Department policies and procedures at CHLA, to incorporate renovated department equipment and workflow.
While accepting the award, he humbly remarked, "I thought I was just doing my job. Everyone has been eager and willing to help."
Anthony is an exemplary nurse because of the knowledge, skill and leadership he has demonstrated. "Anthony routinely arrives early and stays late to assist patients, families, nurses, physicians and other employees." We appreciate all of your hard work.
Congratulations, Anthony!

Nancy Hart Receives November 2013 DAISY Award
Nancy has been at the forefront of the Infusion Center as the unit has gone through a number of changes and transitions in order to create a more effective and efficient department. She has been a pivotal member of the team in countless ways by standardizing the unit's practices in creating a unique appointment scheduling system, by creating a system for fulfilling order sets for physicians to use in the outpatient setting to bridge the gap between paper-based and electronic medical records and by streamlining a process to find missing orders by enlisting the help of a department nurse to help with the "hunt."
In her line of work, Nancy has managed to apply the nursing model to fit a nurse manager's role, as she is able to listen to her colleague's concerns, collect data and to help create solutions. As a unit manager, Nancy also prides herself on being "fair" and "rational."
When presenting the award to Nancy, Mary Dee Hacker, MBA, RN, NEA-BC, FAAN, chief nursing officer, explained, "Wear this pin with a sense of honor." This also marks a milestone for the DAISY Award because it is the first time that the DAISY plaque will be displayed in the Infusion Center.
One of her nurse colleagues, Nancy Pedroja said, "Nancy has shown amazing leadership through a challenging time. She is always willing and eager to listen to our endless concerns, complaints, frustrations and suggestions. It is a comfort to always know that there is someone who listens and someone who is always looking out for the best interest of everyone on the unit."
Another nurse colleague, Christina Cruso said, "She is constantly making changes to make the Infusion Center fantastic for the patients, families and staff." While managing a fast-paced and demanding unit, "Humor is one thing that helps us during stressful times. I appreciate the fact that she still has hers. She is quiet but she has a quick wit and she is able to keep us all smiling!"
The Infusion Center plans to celebrate this honor by proudly displaying Nancy's plaque in the center of the unit.
Congratulations Nancy!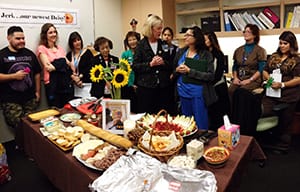 Jeri Fonacier, RN, Receives October 2013 DAISY Award
Geraldine (Jeri) Fonacier, RN, 5 East, was presented with the October DAISY Award at Children's Hospital Los Angeles.
Jeri, who has been with Children's Hospital for more than 20 years, was described by fellow nurses, colleagues and friends as "tenacious," "caring," "compassionate" and "resourceful." She is also a "worrier" who is always concerned with providing the best care for patients, while being an "advocate for everyone."
While accepting her award, an emotional Jeri exclaimed, "I am shocked and overwhelmed. I care about everybody here. I wouldn't be here if it weren't for all of you."
While presenting the award to Jeri, Mary Dee Hacker, MBA, NEA-BC, FAAN, vice president of Patient Care Services and chief nursing officer, described nursing as "the most important job in the world" because nurses are healers within the hospital community.
Hacker explained that nurses not only care for the sickest patients, but they also take the time to provide family-centered care, a fundamental value that is near and dear to the Children's Hospital way of providing care.
The entire staff at Children's Hospital Los Angeles congratulates you, Jeri.

Maxine Ogbaa, RNIII, Receives September 2013 DAISY Award
We are thrilled to announce that Maxine Ogbaa, RNIII, from the Newborn and Infant Critical Care Unit (NICCU), was the winner of September's prestigious DAISY Award for her continued efforts in not only selflessly caring for young patients, but for her commitment to education for the benefit of Children's Hospital Los Angeles. Maxine's manager said, "She has truly left a lasting impact on our hearts and the lives of our patients in the short time she has worked here."
In the brief time that Maxine has been with Children's Hospital, she has made an outstanding impact on fellow nurses, managers and families. Her strong work ethic and passion have propelled her to enhance the discharge process.
Maxine values health care that is family-centered. She is a member of the Family-Centered Care Committee and she has even developed a "NICC-University," which meets twice a month to educate parents.
"Parents have expressed how much they appreciate Maxine and her support during their infant's NICCU stay. She not only does this with an open heart, but she also brings cookies and treats for the families and helps support them during this difficult time," her manager said.
"Her ability to develop a discharge teaching template, teach and create a NICC-University and work her regular shifts are just a small reflection of all of the things she does on an everyday basis that go unrecognized."
During her acceptance speech, Maxine gave credit to her peers and recognized that she "stands on the shoulders of giants" and that her efforts would not be possible without the support of her team.
We could not be any more proud that you are a part of the Children's Hospital team. Thank you for all that you do.
Congratulations, Maxine!

Gigi Giesler, RN, BSN, Receives August 2013 DAISY Award
Gigi Giesler, RN, BSN, from the Newborn and Critical Care Unit (NICCU), was awarded the DAISY Award for her continued service and dedication to Children's Hospital Los Angeles, as her husband, sons and fellow nurses watched proudly. The award came as a total surprise to her since her family managed to trick her into coming to the hospital on her vacation.
Gigi has been a pivotal member of Children's Hospital for 11 years, helping to care for critically ill infants and being an emotional support system for their families.
"Every single nurse in the entire NICCU agrees that Gigi exemplifies the incredible work done by nurses every day," said Audrey Arndt, RN, BSN, who is Gigi's colleague and nominated her. "Working with Gigi has been a blessing. She is such a caring and compassionate nurse. Her knowledge of caring for our fragile population is something we can only gain with time and dedication."
Gigi is truly an exemplary nurse and a patient advocate because she always goes far and above to serve the needs of sick children, with an infectious smile on her face. She embodies all of what Children's Hospital values, by putting patients first. The passion for nursing runs in her family; her husband is also a nurse. The hospital is lucky to have her.
Congratulations, Gigi.
Brandi Bowen, RN, BS, Receives July 2013 DAISY Award
Brandi Bowen, RN, BS, 6 West, was happily surprised with the DAISY Award for July 2013. Her co-workers, sister, boyfriend and his son were in attendance to congratulate her, along with special presenter Mary Dee Hacker, MBA, RN, chief nursing officer.
During the presentation, Hacker shared the history of the DAISY Award and why it is special to nurses.
"Brandi is well deserving of this award," said James Mandani, Manager of PSC Operations, 6 West, in his written nomination of her and during the surprise ceremony. "It is the way she shines. Her personality is magnetic. She makes everyone, including patients and new staff, feel welcomed and at ease."
At the end of the ceremony, Bowen shared, "Since I was in the RN residency, I've always wanted to be a DAISY nurse!"
Congratulations, Brandi.
Julie Fiore, RN, Receives June 2013 DAISY Award
Julie Fiore, RN, 5 East, is the June 2013 recipient of the DAISY Award at Children's Hospital Los Angeles. Colleagues and co-workers congratulated Fiore as she was presented with the award. Fiore was teary eyed as she received her award and stated, "Children's Hospital Los Angeles is my second family."
She is a veteran in her department, having worked here for 34 years. Fiore is the center of her family, as well as the hospital unit that she works in. She also stated that she loves the "philosophy of Children's Hospital and its team of nurses that care for both patients and families."
Fiore has joined the more than 70 DAISY nurses who have been honored by Children's Hospital for more than 10 years. At the ceremony, Susan Santner, MSN, RN, 5 East Operations Manager said, "Julie is a wonderful clinician. She shares information with new people and can treat any patient on the floor." Santner also stated that Fiore's award is "long deserved."
Fellow nurse and colleague, Charlene O'Brien, RN, 5 East, said in her written nomination of Julie, "She is an outstanding patient advocate characterized by her clinical expertise and devotion to her patients and families. She is always diplomatic and respectful in any situation. Julie is a role model for the excellence and values of a Children's Hospital nurse."
Congratulations, Julie, on being selected as a DAISY nurse!
Dawn Landery, RN, Lead Nurse in BMT, Receives May 2013 DAISY Award
Dawn Landery, RN, Lead Charge Nurse in the Bone Marrow Transplant (BMT) unit was surprised to see her husband come around the corner to surprise and celebrate her efforts with a room full of her colleagues as she was honored with the DAISY Award for May 2013.
Landery received several nominations from all areas of the hospital, including nurses and physicians on her unit, staff from the Blood Donor Center and staff from the lab in Smith Tower.
One of her nominators described Landery as "a distinguished and outstanding nurse and role model."
"Landery is exactly the type of nurse that should be in a charge nurse position, as she is able to multi-task, prioritize and meet all of the patient care goals by the end of the day," said another colleague who nominated her. "Dawn goes beyond the expectation of the role of charge nurse by engaging those around her in activities and motivating staff to become involved in projects, research and the multidisciplinary journal club, which she started."
Landery successfully started the multidisciplinary journal club to foster communication and improved patient care. She is also described as having excellent teaching skills as a provider of clinical instruction and supervision to nurse students, new NPs and rotating residents through the BMT unit.
Congratulations Dawn Landery for earning the DAISY Award!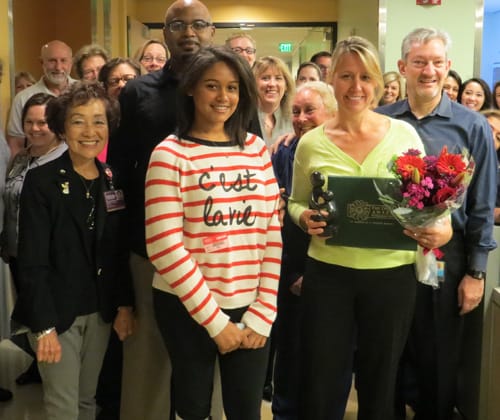 Inge Morton, RN, BSN, CPN, Receives April 2013 DAISY Award
Inge Morton, RN, BSN, CPN, in the emergency department was busy rounding up colleagues on the unit for an early morning surprise DAISY Award celebration, unaware that she was the honoree. Once everyone was gathered, Mary Dee Hacker, MBA, NEA-BC, FAAN, vice president for patient care services and chief nursing officer asked the unit on the count of three to announce the winner. Needless to say, Inge was surprised when her name was called out by her colleagues.
During the ceremony, Susan Cline, RNC, MSN, MBA, education manager of the emergency department, described Inge as a patient advocate, an example of nursing excellence and went on to say, "Inge makes us all better at what we do."
Inge started her career at Children's Hospital Los Angeles in 1992. She has served as a staff RN, education manager and clinical manager in the emergency department and Level 1 Pediatric Trauma Center. Several colleagues from her unit participated in the nomination. Here are a few compelling snippets:
"Inge is one of the best managers I've had in my life because she is passionate about her work."
"Inge has personally influenced the way I practice nursing. I'll take those lessons with me throughout my career."
"Inge is the catalyst for a number of important changes that have improved the emergency nursing care we provide to our patients."
Considered a role model to patients, families and staff, Inge is a deserving DAISY Award winner for the month of April.
Congratulations, Inge!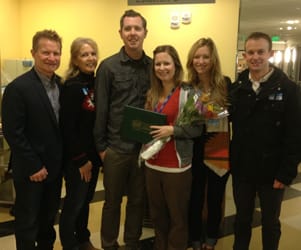 Tanisha Kipling, RN, BSN, Receives March 2013 DAISY Award
Tanisha Kipling, RN, BSN, was surprised as she started her day shift on the Newborn and Infant Critical Care Unit (NICCU) only to be greeted by her parents, husband, brother, sister and other nurses on the unit from the day and night shifts in a celebration recognizing her as the DAISY Award recipient for March 2013.
Kipling worked at Children's Hospital Los Angeles for one year as a unit assistant, followed by six years as a registered nurse. She is the type of nurse who lets nothing stand in her way and is continually going the extra mile for the families of sick infants.
"There is never a day when she is grumpy or upset; she always has a calm and reassuring smile on her face that warms even a cold heart. Her compassion for the critically sick infants here in the NICCU exceeds, by far, any other nurse I have had the privilege of working with," described Robert Giesler in his nomination supporting Kipling. Robert also recalled a time where a parent pulled him aside and said that Kipling is a hero.
Children's Hospital Los Angeles agrees that Kipling is a true hero and is deserving of the March DAISY award for her incredible work, knowledge, compassion and clinical skills. She is truly a great asset to the CHLA family.
Congratulations, Tanisha!

Grace Ruiz, Clinician III, CV Acute, Receives February 2013 DAISY Award
As a member of the DAISY Award committee, Grace Ruiz, a nurse in the Cardiovascular Acute Unit (CV Acute) at Children's Hospital Los Angeles, didn't think she was eligible to receive the hospital's top recognition for exceptional nurses.
That's why she was shocked when she was presented with the award for February 2013 during an early morning gathering with Chief Nursing Officer Mary Dee Hacker and her nurse colleagues.
"Grace is a wonderful nurse whom all nurses admire and respect," is what Aileen De Guzman, RN, wrote in the nomination of her CV Acute coworker.
One of the stories shared about Ruiz centered on a patient whom she cared for during their final hours of life. While it was a very difficult time for the family and staff alike, Ruiz remained professional at the bedside and "provided care that was gentle and reassuring."
De Guzman summed up her nomination by saying that "Grace's care for everyone is an example of the hard work, compassion and love that CV Acute nurses provide on a daily basis to patients, families and the CHLA family."
Congratulations to Ruiz for receiving the DAISY and for all her caring work.

Julita Reyes, RN Lead, Receives January 2013 DAISY Award
Julita "Lita" Reyes, RN, a compassionate and caring nurse with more than 30 years of experience, is one of the lead nurses for the night shift and has been described as one of "6 North's finest. "
Reyes was recently honored as the DAISY Award recipient for January 2013 in a celebration with her colleagues. She was quite surprised to find her son, Patrick, among the crowd with flowers in hand for her. She was very thankful and humble when receiving the award. "Thank you, I feel honored to receive this award," was her heartfelt sentiment.
Her colleague, Yvonne Hughes-Ganzon recognizes how lucky they are to have her, "6 North is fortunate to have Lita as a great leader, team player and resource. She is always available to staff, patients and families."
Congratulations, Lita, on your award and thank you for all your hard work and many years of service!