Neurosurgery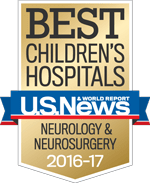 Children's Hospital Los Angeles is ranked among the top hospitals in the nation for neurosurgery on the U.S. News & World Report Best Children's Hospitals List. About half of all pediatric neurosurgical operations in Los Angeles County are performed by surgeons from our Division of Neurosurgery. This high volume of cases leads to high success rates in treatment with our experts routinely performing surgeries for complex neurological conditions.
CHLA is the largest freestanding pediatric hospital in the West performing functional neurosurgery. This means that for thousands of children, we are the only
institution providing the care they need to enjoy a life free from the physical and psychological burdens of their neurological conditions.
Our patients range in age from newborns to young adults. Armed with the latest technologies, the Division provides advanced surgical solutions, with outcome statistics that match or exceed other programs across the nation and beyond.
Because our hospital operates the only Level I Trauma Center in Los Angeles solely for children, our neurosurgeons are well-versed in caring for severely injured children and have pioneered new therapies that are improving surgical outcomes.
The Care We Provide
Our pediatric neurosurgery program is among the nation's busiest with 700 surgical procedures and 4,000 outpatients each year.
It can take a very special team of people to provide the very best care for children who need neurosurgery. Families who choose care from our specialists benefit from having access to all of the specialists below under one roof, including:
Neurologists
Neuroradiologists
Neuropathologists
Neuro-oncologists
Neuro-ophthalmologists
Radiation therapists
Psychologists
Rehabilitation therapists
Clinical nurse specialists
Brain and Spinal Cord Tumors

Chiari Malformation & Spinal Cord Syringes

Craniosynostosis & Craniofacial Reconstruction

Head and Spinal Cord Trauma

Medically Intractible Epilepsy

Vertebral Column Anomalies
Modern imaging techniques have revolutionized our ability to diagnose and treat central nervous system (CNS) problems. This includes arachnoid cysts, which can cause raised intracranial pressure or impairment of cerebral spinal fluid (CSF) pathways to produce hydrocephalus.
Our neurosurgeons have extensive experience treating such cysts of the brain and spinal cord. When possible, we try to treat the cyst with fenestration before resorting to CSF diversion by shunting techniques.
Our physicians evaluate and treat brachial plexus injuries following difficult childbirth or after sustaining a traumatic injury.
Children with these injuries, as well as injuries of other peripheral nerves, may be seen by a range of pediatric specialists, including:
Neurosurgeons
Neurologists (with EMG testing capability)
Orthopaedic surgeons
Plastic surgeons
Rehabilitative specialists
Optimal treatment of brain tumors requires a sophisticated, coordinated multidisciplinary treatment approach.
Each year, surgeons from the Division of Neurosurgery perform about 100 operations for tumors on the brain or spine. Our patients receive excellent post-operative care within the Pediatric Intensive Care Unit.
Childrens Hospital physicians are leading participants in the Children's Oncology Group, a nationwide research collaborative that promotes the investigation of new treatments for these devastating diseases.
Advances in MRI has made it possible to non-invasively diagnose, at an early stage, many problems that previously were detected only after considerable disability had developed.
A case in point is Chiari malformation and hydrosyringomyelia. Patients often present in the pediatric age group with scoliosis, but routine screening by orthopaedic surgeons reveals a number of children with Chiari malformation and syrinx formation.
Our program has had excellent results with decompression, only rarely needing to place a syrinx to pleural shunt to treat the condition. Progression of scoliosis usually stops and often even reverses, preventing the need for any additional therapy.
Craniosynostosis can vary from involvement of a single suture, such as the sagittal, to multiple sutural involvement, such as Apert and Crouzon Syndromes.
If only the calvarium (upper skull) is involved and surgery is required, the neurosurgical team will correct the problem. If the face is involved, then the full craniofacial team will participate. A comprehensive Craniofacial Program is available to address these particular anomalies.
Our neurosurgeons also see children and adolescents who have positional plagiocephaly or functional unilamboid synostosis, who do not require surgical intervention. Following evaluation, we refer patients for use of the headband to correct the deformation as required.
Division neurosurgeons work along with pulmonologists and pediatric surgeons to insert diaphragmatic pacing for children with congenital central hypoventilation syndrome (Ondine's curse) who would benefit from this mode of therapy.
An innovative endoscopic thoracotomy technique allow placement of the electrodes without a thoracotomy – providing for more rapid patient recovery and earlier discharge from the hospital.
Infants and children with extensive and often life-threatening trauma injuries receive expert care in our hospital's Emergency Department.
After initial assessment and diagnostic studies, the patient may be transferred to the Pediatric Intensive Care Unit or to the operating room, as indicated. Our neurosurgeons have considerable experience in caring for such severely injured patients.
Hydrocephalus is one of the most common problems faced in pediatric neurosurgery. Division physicians have extensive experience in all aspects of hydrocephalus, which we share with the medical community through presentations and publications.
Neonatal units from all over the Los Angeles metropolitan area refer pre-term infants who develop hydrocephalus associated with intraventricular hemorrhage. Patients are carefully evaluated for cerebral spinal fluid (CSF) diversion, which is undertaken only if absolutely necessary. We believe the best way to avoid shunt problems is to not insert a shunt.
Our physicians insert or revise approximately 300 shunts a year.
We also provide counseling for pregnant women who have been diagnosed in utero as having a fetus with hydrocephalus.
Division physicians are conducting research into the pathophysiology of hydrocephalus, particularly as related to CSF drainage pathways.
Pregnant women from the southern California region who have been diagnosed in utero with a neurosurgical condition are routinely referred to us for consultation.
Our physicians participate in the hospital's comprehensive epilepsy program, which evaluates patients with medically intractable epilepsy for possible surgical intervention.
Assessment techniques may include:
Magnetic Resonance Imaging (MRI)
Positron Emission Tomography (PET Scan)
Single Photon Emission Computed Tomography (SPECT Scan)
Electroencephalogram (EEG Test)
Videotelemetry
In selective patients in whom surgical intervention is indicated, subdural electrodes are placed for seizure monitoring and treatment. Additional seizure procedures include partial or complete functional hemispherectomy.
The most common form of neural tube defect (NTD) is open, specifically the myelomeningocele or spina bifida. The Division of Neurosurgery has one of the largest programs in the nation devoted to caring for patients with myelomeningoceles.
With this birth defect, the spinal cord is exposed and often cerebral spinal fluid (CSF) is leaking. Lesions are usually repaired shortly after birth. Nearly all patients require a CSF-diverting shunt and have multiple problems, including extensive CNS involvement, varying degrees of motor/sensory deficit in the lower extremities and a neurogenic bladder and bowel.
A Team of Specialists
A diverse group of pediatric specialists and ancillary providers are involved in treatment, including:
Neurosurgeons
Orthopaedists
Urologists
Pediatricians
Nurses
Physical therapists
Occupational therapists
Social workers
In this way, we can devise a comprehensive, ongoing program to maximize the potential of children with varying degrees of neurologic deficit.
Pre-Natal Counseling
We are now also seeing pregnant women who have been diagnosed in utero as having a fetus with an open NTD. We can provide pre-natal counseling.
Closed Neural Tube Defect (Spinal Dysraphism)
In addition to open NTD, a large number of infants are born with a closed NTD or spinal dysraphism.
Tethered Spinal Cord Syndrome
This includes infants with:
Lipomatous malformation (lipomyelomeningocele)
Congenital dermal sinuses (with or without dermal inclusion cysts)
Split cord malformation (diastematomyelia)
Other uncommon types of closed NTDs, such as myelocystoceles and neuroenteric cysts
Our goal is to decompress or untether the spinal cord to prevent progressive neurologic deficit that can evolve over the course of months to years to decades. We treat these patients in conjunction with the orthopaedic surgeons and urologists, as needed.
Encephalocele
We are also experienced in treating encephaloceles, another NTD, that involves the cranium and is often found in the occipital region, but occasionally anteriorly at the cranial base.
Our surgeons treat children with neurosurgically-related problems associated with:
Neurofibromatosis
Tuberous sclerosis
Sterge-Weber disease
von Hippel-Lindau
Phakomatosis (less common forms)
All applicable pediatric specialty services – including genetics, orthopaedics and neurology – are available to treat other conditions associated with these disorders.
Some patients may benefit from a minimally invasive surgical approach, compared to a more extensive surgical option. Division neurosurgeons have the appropriate instrumentation and experience to evaluate and treat these patients.
We offer comprehensive evaluation of children with a spasticity who might benefit from selective dorsal rhizotomy, in participation with experts from orthopaedics, neurology and physical therapy.
For selected patients, we call upon the hospital's state-of-the-art John J. Wilson, Jr. Motion Analysis Laboratory to help determine the appropriateness of performing such a surgical procedure.
Although uncommon, arteriovenous malformations (AVM) and aneurysms can cause life-threatening and/or devastating neurologic impairment following hemorrhage.
Our ability to treat these lesions by direct surgical approach or endovascularly has been enhanced by the availability of magnetic resonance imaging (MRI) and magnetic resonance angiography. In addition, neuroradiologists and anesthesiologists can properly and safely sedate patients, contributing to patient comfort and superior imaging studies.
We employ intraoperative angiography to assure that the AVM has been completely excised or that the aneurysm has been properly clipped.
We also have significant experience in re-vascularization techniques for children with Moya-Moya disease.
Many children with unusual and difficult dysplasias or segmentation abnormalities of the vertebral column are seen and treated each year by either the Division of Neurosurgery alone or in conjunction with the Division of Orthopaedic Surgery. All of the necessary support services to bring about successful treatment of these complex problems are available to our neurosurgeons.