Fellowship Programs
Fellowship Training
MEDICAL SPECIALTIES
SURGICAL SPECIALTIES
OTHER SPECIALTIES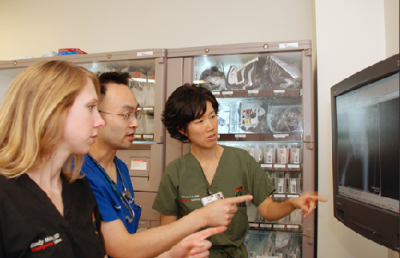 FELLOWSHIP TRAINING
Fellowship training at Children's Hospital Los Angeles offers an exciting range of opportunities, including research opportunities , for an advanced pediatric education. We nurture and promote the career aspirations of our fellows through a wide array of subspecialty programs, scholarship skills training, state-of-the-art clinical facilities and unsurpassed exposure to a large, diverse patient population.
The hospital currently mentors 98 fellows:
92 fellowships are ACGME-approved
Six fellowships are non-ACGME-approved
Core Curriculum:

Training Future Leaders in Academic Pediatrics:

The Pediatric Subspecialty Fellows who train at our hospital will be our legacy to the future as they assume leadership roles in academic pediatrics. The American Board of Pediatrics defines subspecialty fellowship training as preparation for the academic leaders of the various pediatric subspecialties.

We train over 80 fellows per year in pediatric medical, surgical, anesthesiology, pathology and radiology subspecialties. Our subspecialty training programs provide excellent training in clinical care of each subspecialty. This area of training is left to the discretion of the each individual program. The Accreditation Council for Graduate Medical Education (ACGME) accredits the majority of our Pediatric Subspecialty Programs. In Spring 2010, the ACGME conducted accreditation site visits for both the institution and pediatric programs resulting in continued full accreditation for all programs.

To achieve the goal of training the next generation of leaders in academic pediatrics, the ACGME has formulated requirements designed to foster academic leadership and productivity. This body of knowledge is common to all fellows and thus, the Graduate Medical Education Office coordinates a core curriculum for fellows under one program directed by Rima Jubran, MD.

Based on an extensive needs assessment along with the assistance of key faculty, Dr. Jubran developed a core curriculum introduced in September of 2012. It has been well received by both trainees and Program Directors. We made quality improvement and patient safety central to this curriculum and obtained IRB approval to make evaluating our trainees a scholarly activity.
The monthly QI sessions are designed to teach fellows about the science, methods, tools and behaviors used to perform continuous quality improvement (CQI). Through a combination of brief didactics, independent online module completion, and mentored group project participation, fellows learn how to effectively use CQI methods to improve the care of children. In its inaugural year, over 25 fellows worked together on five separate projects, resulting in improvements in the use of a central venous line checklist in the intensive care unit, provider handoff communication following cardiac catheterization, accurate labeling of urine specimens, and more.

In addition to the QI curriculum, there are two core curriculum sessions that run concurrently on Mondays at noon. These are divided into the themes listed below:
First year fellows curriculum
Senior fellows curriculum
Professionalism and ethics
Career development
Feedback
Advanced health care improvement
Teaching basics
Business of medicine
Research methodology
Health care reform and advocacy
Communication and cultural competency
Leadership and team management
Teaching II
First and Second Year Core Curriculums
Commitment to teaching and mentoring is part of the requirements and culture at Children's Hospital. Our leaders are passionate about the role of fellowship training in producing the next generation of pediatric leaders.