Emergency Medicine Fellowship
About the Fellowship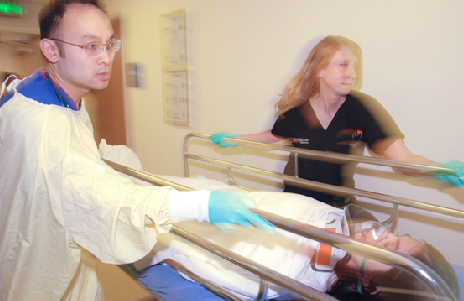 As a fellow, you will be immersed in a busy, urban  Pediatric Emergency Department providing tertiary care. We receive approximately 72,000 patient visits annually. You will gain clinical experience in managing severe  trauma patients, medically unstable patients, as well as resident and student teaching and ED flow management.

Our program's strength is in its clinical volume and variety of patients which allows for a rich and thorough learning experience. You will actively perform numerous ED procedures daily, including leading resuscitations, supervising residents, and functioning with increasing autonomy over time. In addition to clinical duties, you will be provided with research mentors and assistants to pursue mandatory research pursuits.
Senior fellows lead administrative projects designed to further the academic and strategic directives of the  Division of Emergency Medicine and Transport.
Learn More About the Training Program
Pediatric Emergency Medicine Fellowship Curriculum

Specialized Training Areas

Organizational Membership

Academic Resources for ED Fellows
Each fellow is allowed to take 3 shifts off of any month for a week's vacation, and each fellow is allotted 4 total weeks of vacation per year. Three months are available for away rotations, including toxicology, international medicine, research, or other electives. Fellows also gain clinical experience in orthopedics, ophthalmology, anesthesiology, plastic surgery, obstetrics, and adult emergency medicine. A separate Trauma rotation is not required, as our hospital is a Level 1 Designated Trauma Center.
All fellow shifts are 8 hours long, which includes 3 - 12 urgent care shifts per year. Fellows are also scheduled for sick-call to cover for one another in case of illness or other emergency.
Fellow shifts are only at peak times, from 10am to 2am and do not include overnight shifts; fellows do not typically see urgent care patients in the main ED, unless in a designated urgent care shift adjacent to the main ED.
Fellows attend didactic conferences and department meetings twice monthly, and participate by leading clinical case conferences and journal club discussions, and by giving ED Grand Rounds lectures and research talks. Fellows also have their own 'Fellows' Conference' also twice a month, for didactic and workshop-style learning on basic PEM topics and procedures. Fellows are also expected to participate in resident and medical student education both in the ED as well as in lecture settings.
Year 1 Curriculum
Your first year is spent:
Learning the system
Working as a super-resident
Precepted directly by an attending
You are preferentially shunted towards more critical patients, as well as patients requiring procedures, major traumas, and helicopter/ambulance runs.
Late in the 1st year, you will begin to precept medical students and rotators upon approval from the Fellowship Director.
In addition, this year is spent solidifying your research goals and beginning IRB proposals.
A Core Fellowship Curriculum is also required during this year, which hones research and teaching skills.
Year 2 Curriculum
This year is used to improve precepting and teaching skills, as well as ED flow management. Again, you have priority for major traumas and critically ill children. Five research months are given to you for the bulk of your academic research project.
Year 3 Curriculum
In the 3rd year, you will begin 'Attending Shifts' with the approval of the Fellowship Director. Time and resources will be provided to complete your research project with anticipation of a national presentation and/or publication. You will also have increased administrative duties in the ED and will also be asked to manage ED flow.
General pediatric emergency medicine
Pediatric urgent care
Adult emergency medicine
Pediatric burns
Pediatric clinical ultrasound
Pediatric fracture care
Child abuse and neglect
Pediatric major trauma
Pediatric critical care and resuscitation
Toxicology
PEMfellows.com
Repository of simulation files, Pediatric Emergency Medicine (PEM) guides, links, blogs, and powerpoint files
PEMDatabase
Updated peer-reviewed articles on common PEM topics
PEM ListServe
Discussion forum among PEM practitioners around the world
Online Stat Book
Free online tutorial for basics statistics
SonoGuide
ACEP's free online tutorial for Emergency Ultrasound usage
NIH Grants Tutorial
A step-by-step guide to NIH funding
PEMCRC
AAP-affiliated PEM Collaborative Research Committee
ResearchResearch
Large academic research funding database
Thrasher Fund
Clinical and applied pediatric research foundation
California Endowment
Private health foundation for community health
How to Apply
The CHLA Emergency Medicine Fellowship Program is a part of the National Resident Matching Program (NRMP). Our program takes applications via the Electronic Residency Application Service (ERAS). If you are interested in applying for our fellowship program, you will need to apply through ERAS application process.
Program Fast Facts
ACGME Accredited: Yes
Fellows Per Year: 2-3
Application Deadline: ERAS
Program Duration:
- 3-year (pediatrics-trained)
- 2-year (emerg med-trained)
Applications accepted: August
Daily ED coverage: 1-3 shifts
Salary Information:
First year fellow: $56,668
Second year fellow: $58,630
Third year fellow: $61,03
Benefits Include: Health and dental insurance, 15 days paid vacation, and generous CME stipend
E.D. Fellows in Action (slideshow)