DeAnn S. Marshall, MHA
Senior Vice President, Chief Development and Marketing Officer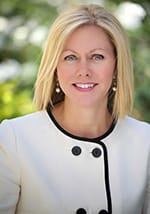 DeAnn S. Marshall serves as senior vice president, chief development and marketing officer at Children's Hospital Los Angeles.
In this role, Ms. Marshall has overall responsibility for the hospital's brand identity, clinical marketing, media relations, advertising, website, social media, internal communications and development activities on behalf of the hospital.
Prior to joining Children's Hospital Los Angeles, Ms. Marshall served as the chief marketing communications officer for Health Sciences at University of California, San Diego (UCSD). There, she was responsible for overseeing the combined communications, marketing and public affairs efforts encompassing the UCSD School of Medicine, the Skaggs School of Pharmacy and the UCSD Medical Center.
Ms. Marshall is a veteran fundraiser who served as executive vice president and chief development officer for the Children's Hospital of Pittsburgh Foundation, providing executive leadership, strategic planning and operational direction for the $300 million private foundation. She served as director of Public Relations (1995-99), executive director of Public and Government Affairs (2000-02) and finally as vice president of Public and Government Affairs (2002-04) for the Children's Hospital of Pittsburgh as well.
Ms. Marshall began her career in the private sector working for the public relations agencies Ketchum Communications (1988-89) as an assistant account executive and Burson-Marsteller (1993-95) as an account supervisor, and served as a senior media specialist for Allegheny General Hospital (1990-93).
Ms. Marshall was named Communicator of the Year by the Public Relations Society of America, is the recipient of two Los Angeles-area Emmy Awards, was recognized with the Community Leader Award by the National Association of Women Business Owners - Los Angeles, and has received numerous marketing communications awards, among her many professional honors.
She is a member of the American College of Health Care Executives, and she serves on the advisory board for the Latino & African American High School Internship Program at Children's Hospital Los Angeles.
She is the author of the chapter "Creating a Strong and Effective Brand Identity" in Maximizing Marketing Communications Strategies, Aspatore Books 2012, and has written several research papers on various aspects of health care, including The Privacy Rules of the HIPAA Law: Origins, Overview and Clinical and Research Applications; Nurse Recruitment and Retention: Best Practice Findings and Recommendations, and Electronic Health Records: Proceed Cautiously and Begin with an ROI in Mind.
Ms. Marshall received a bachelor's degree in journalism with a minor in business administration from Duquesne University in Pittsburgh, and she received her master's degree in health administration from the University of Southern California.